ADALIAcontrol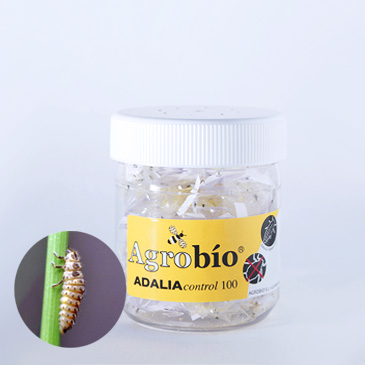 DESCRIPTION OF THE PRODUCT
Bottle of 100 larvae.
Bottle of 250 larvae.
Adalia bipunctata is a coleopteran, from the coccinelid family. It is known as "two-pointed ladybird", and is used to control several aphid species.
RECOMMENDED DOSE
It is recommended 10 – 20 larvae/m2.
Dosage can vary depending on the crop and the level of the pest. Consult the recommended dose with an Agrobío field advisor.
RECOMMENDED CROPS
Adalia bipunctata is used in several horticultural, ornamental and fruit crops.
USE
Release the larvae where the aphid was found, and around this place before the aphid spreads. Use the applicator to release them, placing them in the hot spot homogenously.
PRESERVATION
Keep the bottle horizontally and at a temperature of 8-10ºC. Do not break the cold chain in all the transport and storage process. Do not store the product after 48 hours of receipt, and never expose it to sunlight or pesticides.