EPHEScontrol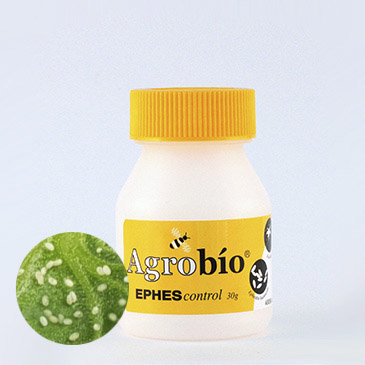 DESCRIPTION OF THE PRODUCT
Bottle with 10 grams of eggs
Bottle with 30 grams of eggs
Bag with 250 grams of eggs
Bag with 500 grams of eggs
Ephestia kuehniella eggs are used to feed and establish predators in several crops, preventively. To avoid the hatching, the eggs have previously been irradiated or frozen.
RECOMMENDED DOSE
Regarding the insect and the crop, use 20-40 gr/ha.
CROPS
It is used in several horticultural, ornamental and fruit crops.
USE
Eggs must be placed in the same point where we will release the insect. Before releasing the eggs, water the leaves, so the eggs fix to leaves and do not fall.
PRESERVATION
Keep at a temperature of 8-10ºC. Do not break the cold chain in all the transport and storage process. Do not store the product after 48 hours of receipt, and never expose it to sunlight or pesticides.