MAJUScontrol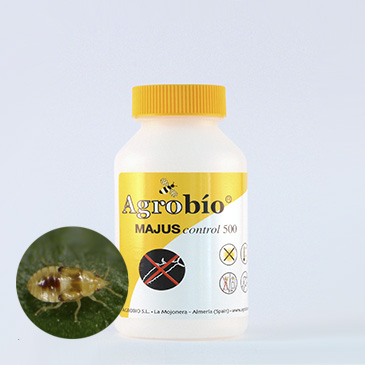 DESCRIPTION OF THE PRODUCT
Bottle of 500 bugs (adults and nymphs)
Orius majusculus is a bug from family Anthocoridae. It is a ravenous predator of thrip, although it also eats other preys (lepidoptera eggs, mites, white fly, aphids, etc) and can develop in absence of pest if there is pollen.
RECOMMENDED DOSE
Preventive releases:  0,5-1 ind/m2. Curative releases: 5-10 ind/m2 around hotspots.
CROPS
Horticultural and ornamental crops: pepper, cucumber, gerbera, strawberry, eggplant, etc.
USE
Before opening the bottle, set it horizontally and rotate it to mix the content. Release bugs in small boxes all over the crop early in the morning or at sunset.
PRESERVATION
It is recommended to release the insects immediately. Otherwise, keep the bottle horizontally at a temperature of 8-10 ºC for maximum 1-2 days. Do not break the cold chain in all the transport and storage process and never expose it to direct sunlight.