Spider mite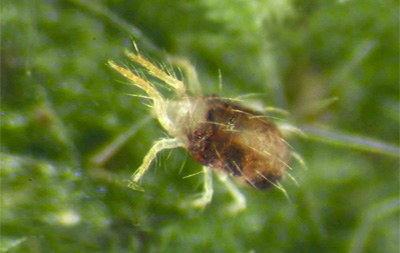 The spider mite (Tetranychus urticae) occurs in all Europe, most of Asia, Africa, America, Australia and New Zealand. It is a thermophile species and it is the most harmful tetranychid for herbaceous plants and ornamental, in both indoor and outdoor crops.
DAMAGES
The spider mite feeds on epidermal cells of leaves and fruits, causing the discoloration of the area occupied by the colony of spider mites.
It attacks fruit-trees, vineyard, citrus and different horticultural crops, such as tomato, pepper, bean or cucumber. It also attacks ornamental and other crops like strawberry or cotton.
PRODUCTS FOR BIOLOGICAL CONTROL OF SPIDER MITE