SWIRScontrol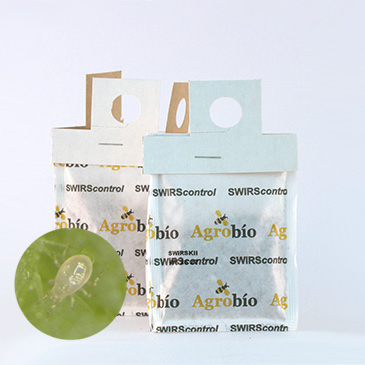 DESCRIPTION OF THE PRODUCT
Bottle of 25.000 mites
Box of 250 sachets (250 ind/sachet)
Amblyseius swirskii is a predatory mite from family Phytoseiidae. This is a polyphagous species, and eat eggs and larvae of white fly, larvae of thrip, red spider mite and broad mite.
RECOMMENDED DOSE
Depending on the intensity of the pest and the type of treatment (preventive, low curative or high curative) the recommended dose goes from 50 to 150 ind/m2.
CROPS
It is used in several horticultural, ornamental and fruit crops. A. swirskii can NOT survive in tomato crops.
USE
Before opening the bottle, set it horizontally and rotate to mix the content. Spread over the leaves. In case of getting the mites in sachets, hang the sachets on the plant at medium height and protected from direct sunlight.
PRESERVATION
Keep the bottle or box horizontally and at a temperature of 15-18ºC. Do not break the cold chain in all the transport and storage process. Do not store the product after 48 hours of receipt, and never expose to sunlight or pesticides. Do not store with bumblebee hives in areas without ventilation.