HYPOcontrol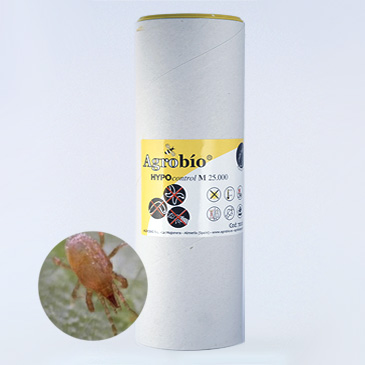 DESCRIPTION OF THE PRODUCT
Bottle of 10.000 mites
Bottle 0f 25.000 mites
Bottle of 125.000 mites
Stratiolaelaps scimitus (formerly known as Hypoaspis miles) is a predatory mite of the sciarid fly larvae (they prefer the small larvae, as these larvae can be 10 times bigger than the mite). The eggs of the flies are not predated as they are not seen as preys. One predator mite can eat up to 8 small larvae of sciarid fly, or from 0.2 to 0.6 developed larvae per day. The mites are located in the first 4-5 cm of the soil.
RECOMMENDED DOSE
Release 200 – 500 ind/m2.
CROPS
S. scimitus is used in seedbeds or garden centers (where the esciarid fly can cause economic losses) and in any other crop just before or after transplanting in order to protect the small plants from the attack of the sciarid fly. It can also be used with mushrooms or to control thrip invasions. The mites need a temperature between 10ºC and 32ºC to develop properly.
USE
Before opening the bottle, set it horizontally and rotate to mix the content. Spread the mites over the substrate or the soil previously watered.
PRESERVATION
Keep the bottle horizontally and at a temperature of 10-15ºC. Do not break the cold chain in all the transport and storage process. Do not store the product after 48 hours of receipt, and never expose it to sunlight or pesticides.