PLANTA-Lobularia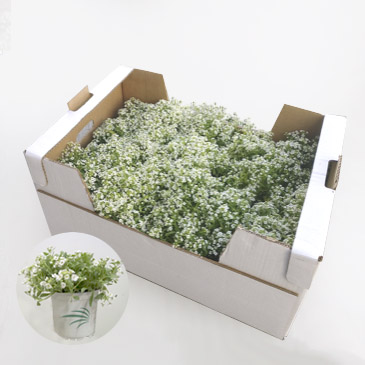 DESCRIPTION OF THE PRODUCT
Pot infested with Orius laevigatus
Lobularia maritima belongs to the Brassicaceae family. It is an herbaceous plant that reaches a height of 20 cm. Its white flowers, which cover the plant, have a long flowering time, thus there is pollen available for a long period that facilitates the feeding and development of beneficial insects populations.
PLANTA-Lobularia plays a double role. On one hand, it is used as a reservoir plant for predators and parasitoids, in addition to keep a population of Orius laevigatus high enough to control effectively the thrips pest.
It is also a "trap plant" as its pollen attracts pests and they inhabit the lobularia instead of the main crop.
RECOMMENDED DOSE
10-15 plants/ha. In case of acquiring the plant without Orius, it is necessary to release nymphs of Orius laevigatus after two weeks.
CROPS
It is used in horticultural, ornamental and fruit crops.
USE
The plants are placed in the margin of the crop according to the recommended doses. They prefer an atmosphere with high humidity and intense daylight.
PRESERVATION
Prevent the plants from falling over and avoid the direct sunlight.