PLANTAcontrol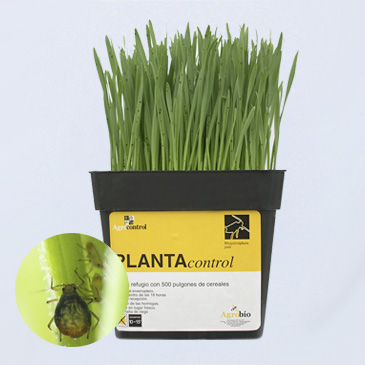 DESCRIPTION OF THE PRODUCT
PLANTAcontrol: Plant with 500 cereal aphids Rhopalosiphum padi
PLANTAcontrol-e: Plant with 500 cereal aphids Sitobion avenae
Rhopalosiphum padi and Sitobion avenae are cereal aphids that we supply hosted in wheat plants. The aim is to keep a population of harmless aphids in the crop in which we want to control an aphid pest.
After introducing the species in the crop, it is necessary to release aphid predators, APHIcontrol and MATRIcontrol in case of Rhopalosiphum padi or APHELIcontrol and ERVIcontrol for Sitobion avenae, so they can parasitize the harmless aphids in order to keep a stable population to control the aphid pest.
RECOMMENDED DOSE
Place 6-10 plants/ha. Aphid parasitoids must be released in the crop after a week.
CROPS
It is used in horticultural, ornamental and fruit crops.
USE
Put plants in the crop according to recommended dose. If natural infestations in the crop are not observed, put new plants with a dose of 2-4/Ha.
PRESERVATION
Prevent the plants from falling over. Do not expose to direct sunlight, and store at a temperature between 10ºC and 15ºC. Use the plants within 18 hours after receiving them, and protect the plants from ants.